What's this?
Being able to chat with your customers in real-time is invaluable when providing both technical support and answering sales questions. Olark provides a great live chat platform which can easily be integrated into your website.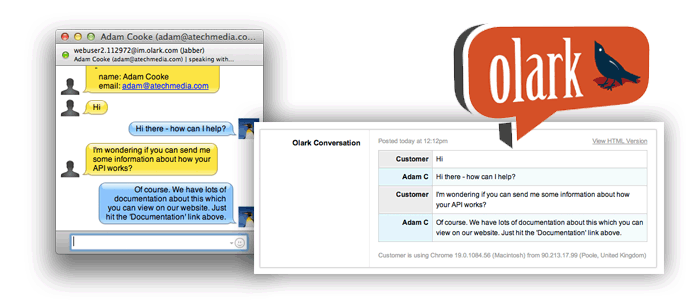 What does your integration do?
The Sirportly Olark integration ensures that transcripts of all your Olark conversations are stored within your helpdesk and linked to your customer as appropriate. This archiving feature allows you to easily keep track of all the discussions which take place with your customers.
What do I need to use this?
In order to take advantage of the transcripts & integrations feature, you will require a paid Olark account. The Olark module is available for all cloud & download edition users of Sirportly at no extra cost.
How do I set this up on my account?
Our documentation contains all the information you need to set your Olark integration up and running.