Escalation paths are, as the name would suggest, paths through which tickets can be escalated. They determine which team should be assigned a ticket when it comes in, and then can provide a path of other teams for that ticket to be escalated to, should the original team not be able to resolve it.
All your current escalation paths are visible on the 'Escalation Paths' page, the third link in the Staff Management section of the Admin navigation. As an escalation path is required to create a department, there is a default already there, cleverly entitled 'Default Escalation Path'.

To add a new escalation path, click the green button labelled 'Add New Escalation Path', type in a name for the path, then click 'Create Escalation path'. After you've created your escalation path you'll be presented with the option to add Teams to your new escalation path. Just click "Add Team" and select the team that you wish to add. You also reorder the teams in your escalation path from here. When you're done close the dialog and your escalation path is ready to go.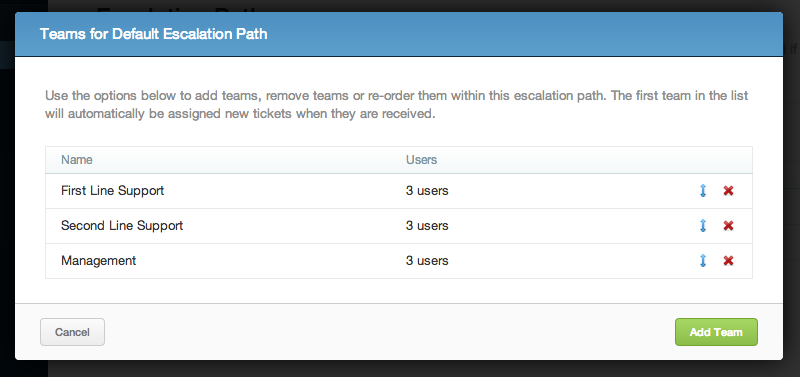 Editing escalation paths is exactly the same - click on the 'Add/Remove Teams' link, and add, move and remove teams as above. To edit the path's name, you'll need to click on the pencil icon on the main Escalation Paths page.
To delete an escalation path entirely, click the red 'X' on the right of the main Escalation Paths page. You won't be able to do this if a department is currently using that escalation path to assign teams.