Forwarding from Gmail
If your customer support emails go to a regular Gmail inbox, you should follow these instructions to get the messages into your Sirportly account.
If you are a Google Apps for Business user, Google restricts the character set you can use for mail routing from the admin panel, so you must set up a forwarding address on an individual inbox.
Sirportly
From the Admin Dashboard select "Ticket Submission" on the left, followed by "E-mail Routing"
Click "Add new address"
Enter the email address of the mailbox you'll be forwarding from, ensure that forwarding is checked and click continue.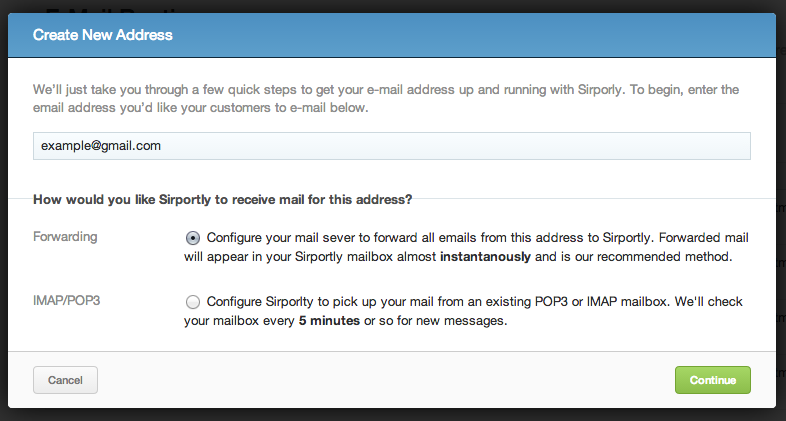 The next page has instructions for forwarding mail from Gmail. Make a note of the e-mail address listed in Step 3.
Gmail
Head to your Gmail Account in a new window then select "Settings" from the configuration menu.
Select the "Forwarding and POP/IMAP" settings tab and click "Add a forwarding address", then paste the in the e-mail address from Step 3 in Sirportly. Click "Next" and confirm the by clicking "Proceed" on the next page.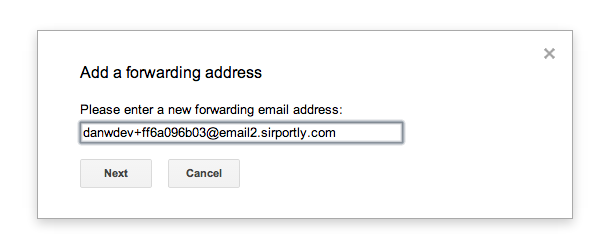 Dismiss the confirmation message and head back to Sirportly.
Sirportly
Once we receive the confirmation e-mail from Gmail we'll display a confirmation code in Step 5. When it arrives, copy this code onto your clipboard.

Gmail
Now head back to Gmail and paste your code into the verification box and click "Verify"

Mail forwarding will still be disabled in Gmail be default, so ensure you check the "Forward a copy of incoming mail to..." box and then "Save Changes"

Sirportly
Head back to Sirportly and click "Continue"
Next, setup how you'd like incoming and outgoing e-mail to be handled in Sirportly from this mail address. More details about these fields can be found in E-Mail Routing.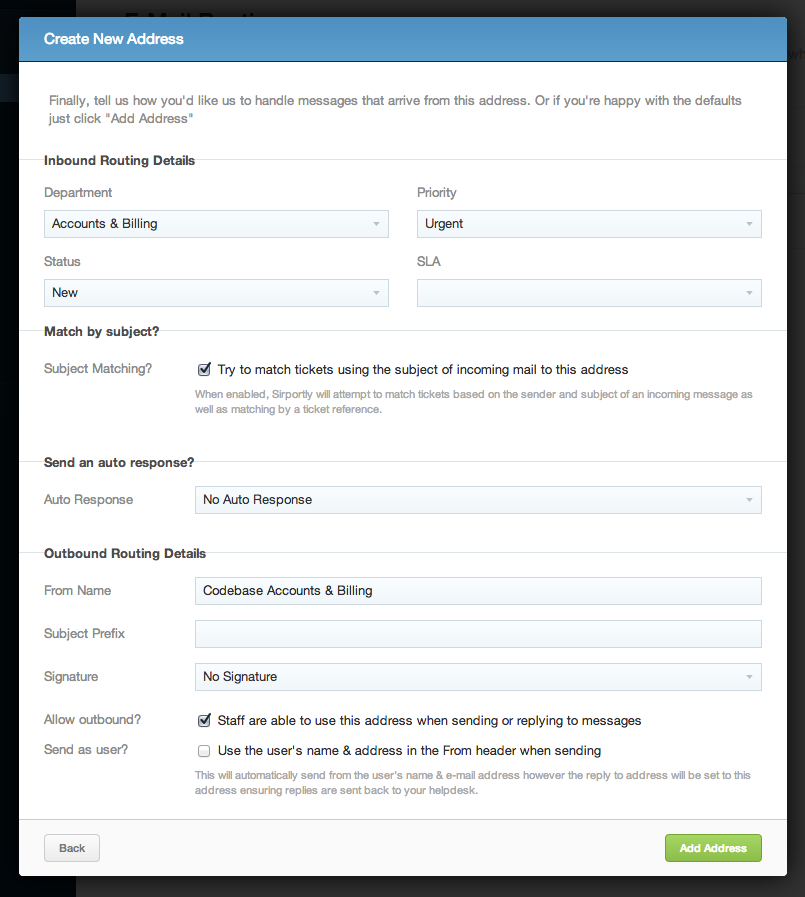 Click "Add Address" and Sirportly will be accepting e-mail forwarded from that address.