Slack
Slack integration allows you to communicate ticketing information directly into a Slack channel, with automatic posting on ticket creation & updates, and the ability to post using macros. For more information about Slack, visit their website.

Enter the incoming hook URL, the channel you wish updates to be posted into, and the name you'd like the updates to be posted from into Slack.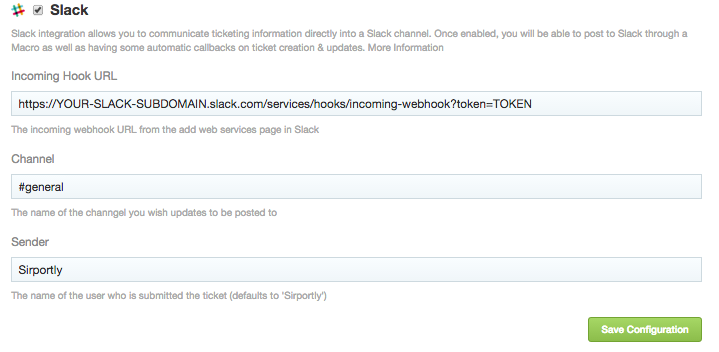 Generating a Slack token
Head over to the Slack web ui and click Configure Integrations.

Scroll to the bottom of the page and under DIY Integrations & Customizations click the add button next to Incoming WebHooks.

Choose the correct channel and click Add Incoming WebHooks Integration.

Scroll down the page until you see the Example section, here you'll find the incoming webhook URL, copy and paste this into the Incoming Webhook URL field in Sirportly.