Support Centres
Support Centres give you an attractive, customisable public view that you can add onto your support system. Here customers can submit and update tickets, read support articles and news, and finally download any files you make available to them. You can also make your Knowledge Bases accessible via your Support Centre.
Creating Support Centres
You'll find Support Centres under the "Ticket Submission" category in the Admin area. To begin creating a new Support Centre, click "Add New Support Centre".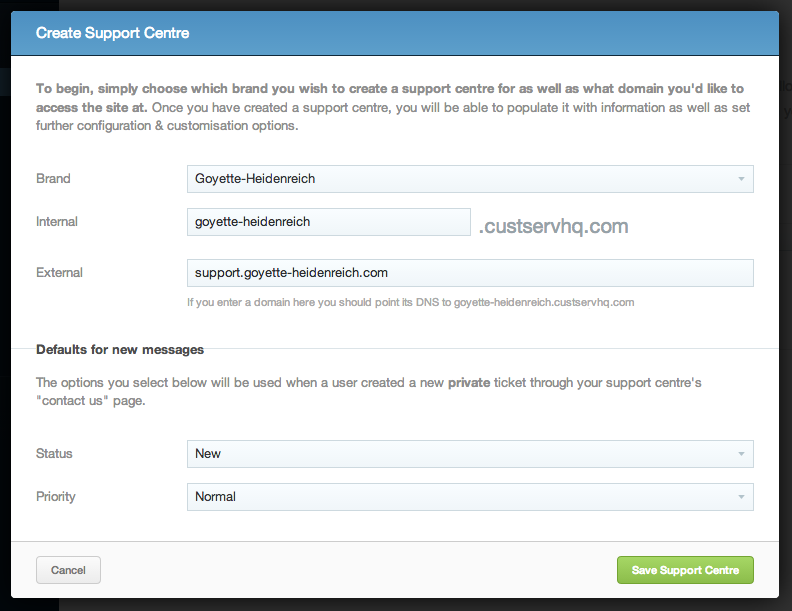 Select the brand that you wish to associate this Support Centre with
Enter an internal custservhq.com domain that the support centre will be accessible from. In this case Support Centre will be accessible from goyette-heidenreich.custservhq.com.
Optionally, add an external domain that this support centre will be accessible from. You'll also need to set up a DNS CNAME record for this domain pointing to the internal address we defined above.
Finally, choose the default status and priority for tickets submitted through the Support Centre, then click "Save Support Centre"
Editing Support Centres
After creating your support centre, you'll be taken to the Support Centre Editor, where you can further customise your Support Centre. The editor is split into four sections:
General Settings allows the customisation of options such as the domains that are used to access the Support Centre, the endpoint for SSO, ticket defaults, which areas of the support centre are active and which knowledge base this Support Centre should display.
Branding allows you to upload a logo for your Support Centre, change the default colour scheme, customise e-mails and choose which staff will be displayed in the support centre.
Discussion Forums allows you to create public discussion forums that your customers and staff can interact on.
Templates/Snippets allows you to fully customise the layout, appearance and content of your Support Centre.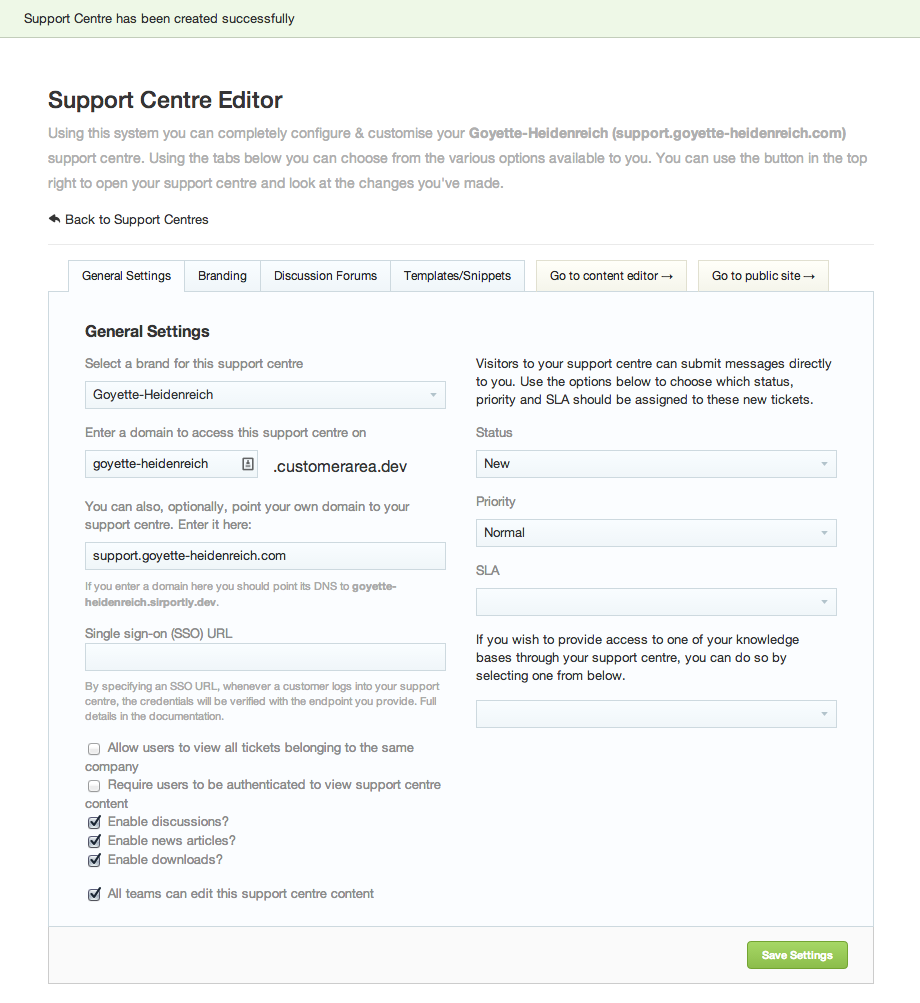 There are two additional tabs to the right which take you to two other areas.
Go to Content Editor will take you to a page where you can add Articles, News and Downloads to your Support Centre
Go to Public Site will take you to the publicly visible site so you can see what your support centre looks like.